How can an online business align with your personal Goals?
I find that as humans,  we are quite an interesting lot.  In my opinion, I think that even though we think that we are all different, we are all also very much the same,  with some differences.
Take a few minutes and review my list of top eleven needs.  I suspect that we all have some desire to fill the needs on the list.  Certainly, on an individual basis, our significance of some needs and the priorities of the needs will differ.
Humor me and take a few moments to rank the eleven needs from most important to the least important.  Feel free to add others (if you do have some to add, please send them to me in the comment section below, we would love to hear them).
Health
Love/Affection
Subsistence/ Security – Earn a living
Spirituality
Success – Self-satisfaction – Sense of Accomplishment
Be respected – Trusted
Help others
Pride
Freedom – Financial Independence
Passion
Leisure /Fun
There are a lot of courses and information out there on the Goals setting subject, and strategies of how to be effective in achieving them.  Personally, I am a proponent of Stephen Covey.  Others find success utilizing one of the many other strategies out there, perhaps even their own.  I think it is important that people use what works for them.  We will save that discussion for the future.
When my wife and I went through and reviewed the top 11 list a few months ago, I was personally at a crossroads in my life.  A long term career (30+ years) in management was in the rear view mirror and I was looking for my next challenge and opportunity.  It struck me that I have been fortunate enough to have fulfilled to varying degrees or working to fulfill most of the needs – thankfully we saw progress in those that we deemed most important, but we need to continue to move forward.
How I ended up working online and with Wealthy Affiliate
I looked at a number of management opportunities and acquiring some small local business, franchises etc,  I quickly came to the conclusion that none of these really ignited my passion – that none of these undertakings was going to be helpful with what I wanted to accomplish and allow me to keep working on my top eleven list.
So, I decided to expand my horizons and take a much broader look.  I got out of my comfort zone, 30 years in Automation, Software and Services, Food, Agriculture and a lot of different Manufacturing businesses.  I looked at a whole bunch of different things – small businesses, franchises, consulting and services businesses etc.  The cost of entry required investing a substantial amount of money to get into most of these opportunities.  A concern for someone as young as me.
I happened to stumble across a website for "Wealthy Affiliate".  The statement "Start growing a second income today, with no initial investment!" immediately perked my interest.   Of course, I was very skeptical.   I did some thorough research and Googled it to death.  To my surprise, I uncovered the immense opportunities of online marketing and the growing opportunities for affiliate marketing.  As I delved deeper into it, I realized there were real connections and a number of opportunities for this type of undertaking to help us in moving forward with the top 11 list.
I immediately signed up for the Free Membership and my trial was underway.  I was jumping into something I really knew nothing about.  I am not a tech savvy guy, so it really blew me away that I was learning new valuable skills every single day.  What I was able to learn and apply in a few short days surprised me.  I hadn't even signed up to be a Premium Member yet –  it was only costing me my time investment but absolutely no money.
---
I had even started a couple of web sites and I started to realize that wow,  I was actually on my way to having my very own online business.  I signed up for the Premium membership before the week was over.  That opened up additional tools, training and even more important, a very welcoming and knowledgeable Community of people working to the same end Goals, but with an underlying philosophy of helping others to get help for yourself.  I am now well on my way to generating passive income in a very short period of time.
Try it, get your own website here for Free!
Some solid reasons why you should start working online:
1. The World is your oyster
In the online world, there are no limits to seeking out Partners, Collaborators, and Customers.  Your pool is the World with well over 3 billion people online Globally.  You have the opportunity to start your own thriving business that can turn into a big business with minimal investment.
2. You don't need a lot of cash or business investment.
The investments for starting an online business are minor.  To start working online all you really need is a computer and an internet connection.  As I said before, you can start for free, or with a minimal investment.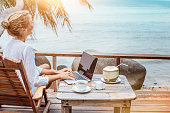 3. You have the freedom to work from anywhere that has a connection.
No more frustrating traffic delays or wasted time and money on the long commute to and from work.  You have the freedom to work from anywhere with a reliable internet connection.  Whether from home, a coffee shop,  a park, the beach, even if you are away in another city or even country.  You can now work and travel at the same time because in an online business your work is mostly done from your laptop, tablet or smartphone.
4. You can fire your boss.
You are the leader now, you can say goodbye to your boss.
5. You have the freedom to work the hours that you choose.
When you work online you have a freedom to manage your time as you choose. You can choose to work any time of the day that works best for you and your significant others. Working online can allow you to have more time to spend with your family and friends.
6. Your earning potential is not limited.
Your success and earning potential is controlled by you working online.  You are not limited to the amount of money that you can earn.  You can build this up and carry on running it into your retirement, or, you can sell it because well run, high traffic,  profitable websites are very valuable.
7. You get satisfaction.
You are learning constantly and reap the rewards of the implemented knowledge. With an online business, you can have a clear concrete business and personal measurable goals.  Result = Satisfaction.
8. Working online could make you happier.
You can build a thriving online business around your hobbies or your passions and enjoy what you do every day.  You can start building a web site where you will sell your products or services.  Working on something that you love will be less stressful and can lead to being happier and even healthier.
Feel free to drop me a line if you have any comments or questions.